Galen Terrace
June 13, 2011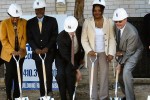 Galen Terrace
Washington, DC
$12.5 million Saves Section 8 Housing in Anacostia
Project Awards
2008: Housing Association of Nonprofit Developers (HAND) "Best Project in Washington, DC"
2008: Charles L. Edson Tax Credit Excellence Awards "Best Urban Project" Honorable Mention
2007: Enterprise Communities Partners, Inc. "Enterprise Green Communities Designation"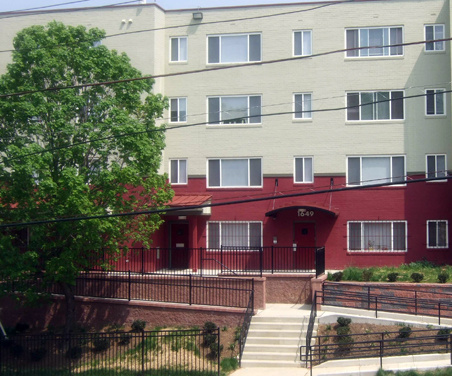 Project
83 units of affordable housing were preserved and improved in the Anacostia neighborhood of Washington, DC. When the property was put up for sale, the tenants joined together, formed what would become The Galen Terrace Tenant Association and used their rights under the Tenant Opportunity Act (TOPA) to preserve their homes. TOPA gives renters the right of first refusal, when an owner wants to sell rental property. After interviewing several developers, the group decided to partner with both nonprofit and for profit developers to help it achieve its preservation goals.
The property had been suffering from poor management, increasing crime and a run-down physical condition. Under the new ownership of the tenants association and their partners, significant improvements turned the property around. Safety became a key goal, and improvements were made through improved lighting, installation of a secure key card building entry system, and surveillance cameras.
Financing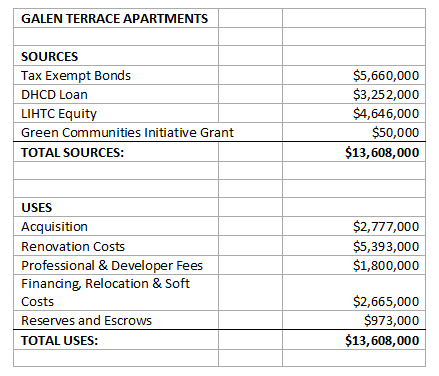 This project was completed by IBF Development's President working for the National Housing Trust Enterprise Preservation Corporation and in partnership with Somerset Development Company.The National Housing Trust/Enterprise Preservation Corporation (NHT/Enterprise) is a joint effort of the National Housing Trust and Enterprise Community Partners, Inc. NHT/Enterprise collaborates with local partners and investors to raise the capital necessary to buy and renovate affordable apartments that are at risk of being converted to market rate or that are deteriorating. Somerset Development Company, LLC specializes in revitalization of urban communities. Based in Washington, DC, with an office in Baltimore, MD, Somerset develops and preserves affordable housing, renovates historic properties, and develops mixed-use properties that strengthen local communities.
Green at Galen
This was the first affordable multifamily rental building built to Green Communities Initiative (GCI) Standards (http://www.greencommunitiesonline.org/) in the District of Columbia. GCI eventually became the building standard in Washington, DC.
Green Features
• Rain Barrels
• Energy Star Appliances
• Special paints and primers with low VOCs
• Energy Star reflective roof
• Energy Star lighting
• Green Label Carpeting
• Energy efficient windows
• New, energy efficient heating and air conditioning systems
Financial Partners
Additional Reading
Posted on June 13, 2011 at 2:40 pm
Recieve new post updates: Entries (RSS)
Recieve follow up comments updates: RSS 2.0