MLK Co-Op
Martin Luther King, Jr. Latino Cooperative
1236 11th St, NW
Washington, DC

THE SITUATION
The Plymouth Apartments were located in the quickly gentrifying neighborhood of Shaw near the new Convention Center in Washington, DC.  The apartments had not been renovated in over 20 years.  The elevator worked sporadically and was eventually shut down by DC Department of Consumer and Regulatory Affairs (DCRA) inspectors as unsafe.  The property was plagued by poor security.  Unlocked doors led to persistent criminal activity – drug dealing, prostitution and theft – which threatened the safety of the families and children in the building.  Rents were being raised by hundreds of dollars every year while maintenance went unaddressed.  On top of all this, the residents had no space where they could meet to try to address their common issues.  In the face of these conditions, the residents were notified that a for profit company intended to purchase the building and convert it to high-priced condos which would force them out.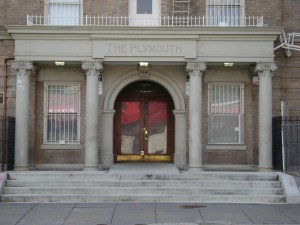 THE TURNAROUND
But the fate of the residents and their building turned around in May of 2006. Under DC law (TOPA), tenant organizations have the right to purchase their building by matching the price being offered by a third party
developer.  Just five days before their rights expired, with assistance from Rob Richardson and their co-developers, NHT Enterprise and Organizing Neighborhood Equity (ONE DC), the Martin Luther King, Jr. Latino Cooperative became the new owners of their 73-unit apartment building.
The property was initially purchased using bridge loans from Enterprise Community Partners and the Local Initiatives Support Corporation (LISC). These bridge loans were replaced with a lower-rate, long-term $8.4 million
acquisition loan from the DC Department of Housing and Community Development (DHCD) in September of 2006.
Then the Development team successfully applied for a second $6.5 million loan from the city to renovate the property.  In all, the City invested $15 million to insure these residents could continue to afford to live in this
gentrifying neighborhood just 2 blocks from the new 2.3 million square foot convention center.
We were able to maintain the historic features and preserve and improve this property as affordable housing.
The project successfully accomplished its goals of preserving and improving the affordability of the 73 units in a desirable neighborhood; enabling residents to remain in their homes with convenient access to their jobs; improving the neighborhood by restoring a dilapidated, historic building; preserving the economic and cultural diversity of the neighborhood; and promoting the District's homeownership incentive policies.
Sources and Uses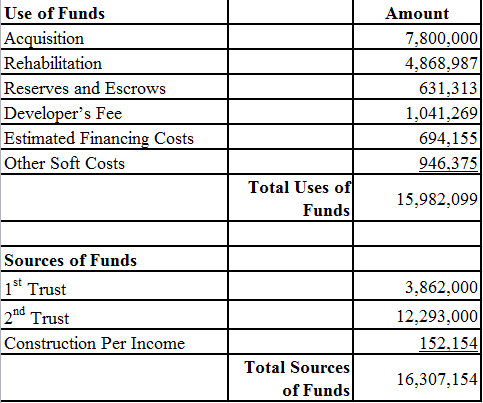 Development Partners