51st and King Drive Apartments
51st and King Drive Apartments
Chicago, IL
The 51st and King Drive Apartments project preserved 96 affordable housing units which were at risk of being lost through condo conversion on the edge of a revitalizing area in Chicago, Illinois. This project posed a unique challenge due its age of over 100 years, and required significant rehabilitation. It was also an opportunity to preserve a part of history while updating the building to serve its current residents.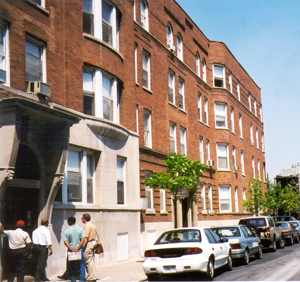 The Renovation
Improvements and upgrades were made to major systems, investing over $30,000 per unitinto the property and included window replacements, an updated electrical system, and renovations to bathrooms and kitchens. The building also received a community center, called the Neighborhood Networks Learning center, created from space that was occupied by an abandoned beauty salon. The Center provides computer training, GED and other education programs to the community.
Project Financing
A comprehensive preservation strategy that included significant property rehabilitation was developed. We assembled a variety of funding sources including:
• Tax-exempt, FHA insured, private activity bonds
• Low Income Housing Tax Credits
• New debt supported by an Interest Reduction Payment decoupling
• Second trust provided by the Illinois Housing Development Authority (IHDA)
• A grant from the Federal Home Loan Bank Affordable Housing Program (AHP)
• Preservation vouchers
• Section 8 rent increases using HUD's Mark-up-to-Market program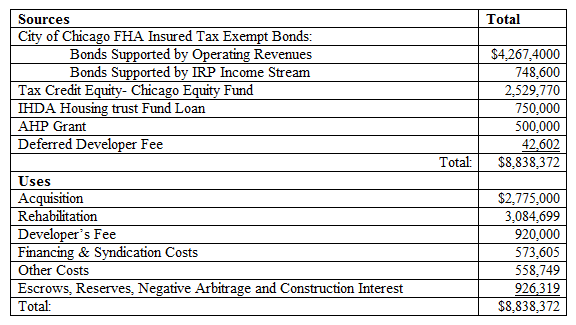 This project was completed by IBF's President while working for NHT Enterprise, and was done in partnership with the Chicago Community Development Corporation (CCDC).
• NHT Enterprise is an award-winning national nonprofit dedicated to the preservation of affordable rental housing.
• CCDC is a Chicago-based Developer that has been redeveloping affordable multi-family housing for over 20 years.